Cybersecurity Bootcamp
Cybersecurity mastery in 24 weeks or less.
Launch your cybersecurity career today, when you breeze through our cybersecurity bootcamps engineered to advances your skills networking, security development, analytics and DevOps...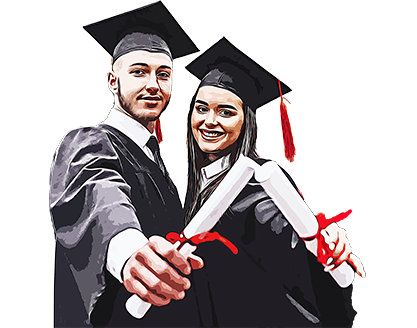 Cybersecurity: The 50,000 Foot View
Kickstart a rewarding tech career today.
Our Cybersecurity Bootcamp is tailored to deliver exactly what you need from a tech curriculum: high-level instruction, one-on-one career coaching and live sessions with the industry's top experts. Work at your own pace to learn every skill you'll need to thrive in a cyber-focused environment...
Who is our Cybersecurity Bootcamp for?
We've created our Cybersecurity Bootcamp for any professional looking to make strides toward a fulfilling career in emerging technology. Our admissions advisors will walk you through any pre-requisites which generally require basic programming, IT, and MS Excel skills.
This course is designed for those with basic computer skills looking to start their IT career as an IT technician.
What could I make as a cybersecurity expert?
Chief information security officer
You'll develop executive-level cybersecurity strategies, and implement them at key junctures to help keep an organization's employees safe. Responsibilities include cyber architecture and data reporting.
Approximate Salary: $170k-$280k per year
Computer forensics expert
You'll collaborate with law enforcement and corporate officials to provide key insight on a particular device, network, system or dataset. After a security breach, you'll rely on investigative skills to highlight specific information for official use.
Approximate Salary: $73,000 per year
Cryptographer
You'll deploy specific algorithms alongside computer code that you create and optimize, to create encrypted programs that benefit your organization in specific ways.
Approximate Salary: $145,000
Boost your earnings and advance your cyber career
---
Reference career roles and data for your location, typically associated with Cybersecurity learning bootcamp students — earnings benchmarks you can reach with new skills.
Job Information sourced from indeed
Job Information sourced from indeed
Cybersecurity course specifics
Pace's Cybersecurity Bootcamp is an accelerated program to help create the next generation of cyber professionals. Through capstone projects, hands-on labs and a variety of other immersive education formats, you'll be well-prepared for virtually any cybersecurity career you wish you undertake. You might consider a role as a cryptanalyst, cybercrime investigator, ethical hacker or risk management expert — or one of countless other careers that depend on the advanced cybersecurity skills you'll soon possess.
Course objectives
You'll strengthen your understanding of core security fundamentals, enabling you to identify particular IT threats and engineer risk prevention strategies within a controlled environment.
You'll learn to assist your own organization in the specific physical and software measures they implement, to help protect corporate systems from harm. You'll configure secure platforms that fortify your digital environment, keeping users and their computers safe.
You'll learn to address specific vulnerabilities and system loopholes that might characterize your organization's networks, helping them guard against attacks before they ever materialize.
You'll diagnose modern cyber attacks — including DDoS and security engineering attacks — to ultimately protect devices from these and other invasions.
You'll create algorithms and ciphers that properly codify sensitive organizational information, creating protective layers against any data that hackers might otherwise find valuable.
You'll collect and analyze evidence that could indirectly or directly indicate a breach in corporate firewalls.
This concentrated program cost: $5100.00
Develop in-demand cybersecurity skills through bootcamps licensed through top universities, all in 24 weeks or less.